White Stork ring number A 4216 DER
A Rhine-Hessian travelling Stork
March 03 2011
Here the biography of this White Stork, which I got today from the ornithological institute Radolfzell:
White Stork with ring number A 4216 DER
Ciconia ciconia
Gender: male
Banded on: June 09 2005 as none fledged chick
Banding area: Radolfzell Böhringen, Southern Baden (Freiburg) Germany
Banded by: Wolfgang Schäfle, Radolfzell
My sighting: January 30 2011 - garbage dump of Los Barrios (Cádiz) Spain
Here the photo from the sighting: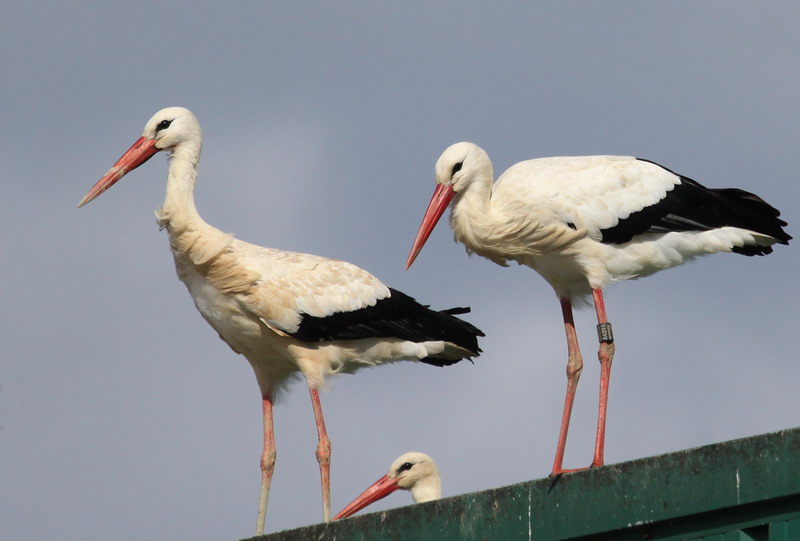 The biography of this nearly six year old male Stork is well to follow because of the many sightings reported to Radolfzell.
After banded in June 2005 as nestling his tracks were lost until April 12 2008 as he was sighted by the Aktion Pfalzstorch at Rülzheim, Rheinhessen-Pfalz and was observed building a nest or breeding. Rülzheim is located about 163 km away from his place of birth. Means that the mature Stork came back near to the place of his birth!
During the following weeks and months this stork was seen quite frequently by members of the Aktion Pfalzstorch in the nearby surrounding. Last on August 16 2008 resting at a place near Offenbach.
The track of A 4216 was lost until May 15 2009 when he came back to Rülzheim building his nest and breeding. Observers were BG Pfalzstorch. In the following weeks and months the Stork appeared at Offenbach and Bellheim. Several times sightings were reported to Radolfzell. Last on August 09 2009 at Bellheim by the Aktion Pfalzstorch.
February 14 2010: A 4216 DER is now in ist wintering area, at Cortalet, Castello d´Empueries, Girona. Beeine 766 kilometers away from the place of his birth
On April 03 2010 A 4216 DER again shows off at Rülzheim, was sighted and reported by Mrs. Ingrid Dorner from Bad Dürkheim. On May 15 2010 it was reported that he is breeding. Last sighting of the year 2010 was on July 30 2010 at the commercial area of Offenbach and 170 km away from the place of his birth
And on January 30 2011 the Stork from Palatinate was standing on the garbage dump of Los Barrios (Cádiz), Southern Spain, where I sighted and photographed him. 1751 km distance from the place of his birth
Now of course I hope very much, that the members oft he Aktion Pfalzstorch will very soon sight A 4216 DER at Rülzheim again!!!
Last news from A 4216 DER from March 06 2011:
As I was told by the Aktion Pfalzstorch yesterday, this male Stork was breeding for the last three years with the same mate at Rülzheim. The female was already waiting for him in the homey nest since January 14 2011. And …l yesterday A 4215 happily arrived there after his marvelous winter holiday in Spain!

Latest news from A 4216 from March 10 2011:
A member of the Bird Protection Society at Rülzheim, who among others also takes care for the stork nest at Rülzheim, told me in a detailed Email the biography so far of A 4216DER in Rülzheim. With all its ups and downs. And he also send me photos.
This shows A 4216 DER with his also banded mate A 4925 DER during nesting: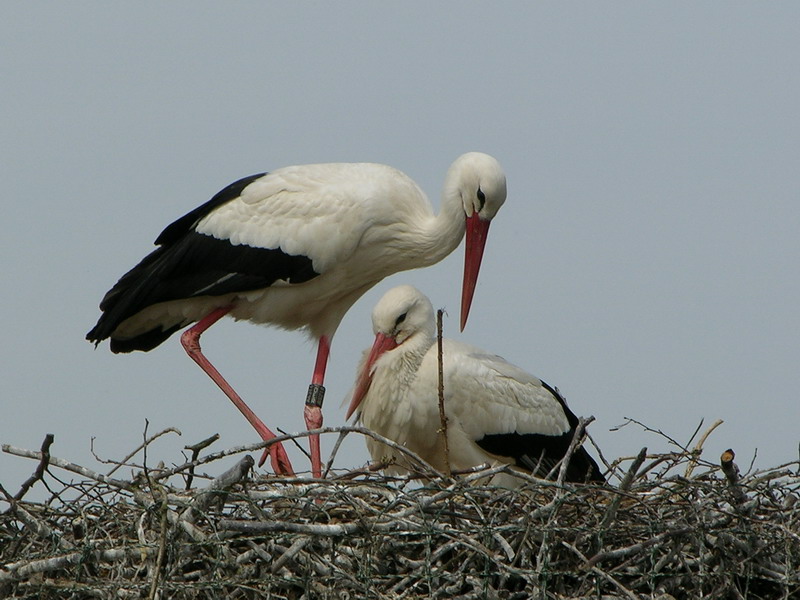 This is Gynni, the offspring of this stork couple, who was banded on July 12 2008. Gynni was after 70 years to the very joy of everybody the first stoklet born in Rülzheim! In August 2008 he went on migration: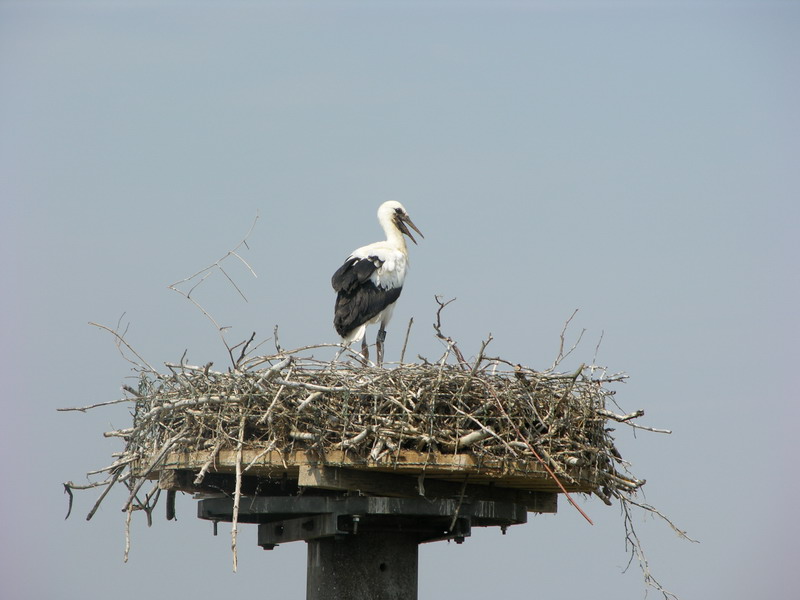 After this success with Gynni in 2008 the couple came together in 2009. Everything looked promising, because 5 chicks hatched. But the continuing bad weather im May with 160 liters of rain on one day carried the offspring away. Terrible reality about the life of the White Storks ….
Also 2010 the stork couple came together in the same nest and 5 chicks hatched, 2 died, what frequently happens, because the stork parents can hardly manage to bring that much food. Up to here everything seems normal. But then something totally unexpected happened, because the stork parents came into heavy conflict with each other. The stork lady refused A 4216 DER to enter the nest again. To save the remaining three chicks, the people in charge didn't have another choice but to remove the young storks from the nest and bring them to other stork parents. One of them finally made it to become a young stork in the neighboring Bellheim.
Also the year 2011 did not start with undisturbed happiness. The stork lady had been already in the nest since January 8 2011, where A 4216 DER only arrived on March 3 2011 after his holidays in Spain. The lady of his heart in the meantime had been off with another male stork. Fighting broke out and A 4216 DER was defeated and had to leave. He found his new luck only 6 kilometers away at Knittelsheim and is nesting there with an unbanded stork lady.
But he who thinks, that his 'ex' A 4925 DER would live in luck with her new male stork at Rülzheim is wrong! She left the nest, flew to Knittelsheim and is living now beside of her 'ex'. The nest at Rülzheim is for the time being empty.
Action at storks …! Difficult not to draw parallels to people!

Last news to A 4216 from March 11 2011:
Well, coincidences happen! My friend Brit from Germany is watching since a few days this stork nest at Knittelsheim, where A 4216 DER - as written in the last update - moved in. With a new mate. And on this very Web camera image is also clearly to recognize the 'ex' of A 4216 DER, standing all by herself in the neighbor nest. Well I guess the last word isn't clattered in this story.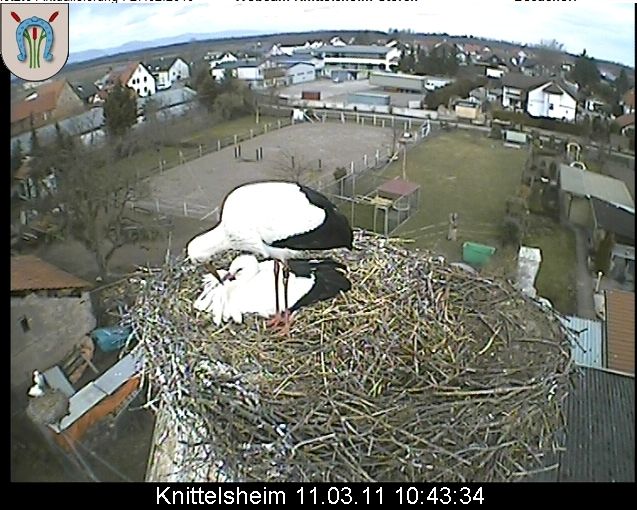 Birgit Kremer
All photos
©
copyright by Birgit Kremer
webmaster Sabine Börsch
Impressum