Entremuros
April 7 2010
Hello dear reader!


In the surrounding of the little village of Isla Mayor we saw a few years ago during the winter months many wintering birds like black storks and thousands of lapwings. We realized that these pictures wouldn't be repeated during this time of the year. In addition also the rice-fields are tilled only in May and so the area looked rather dry and also no herons were to be seen. BUT just behind the village begins a birds route, passing the asphalt street at Doñana National Park and directly going into the Guadiamar area and on the other hand ...
... you can take this way, which ...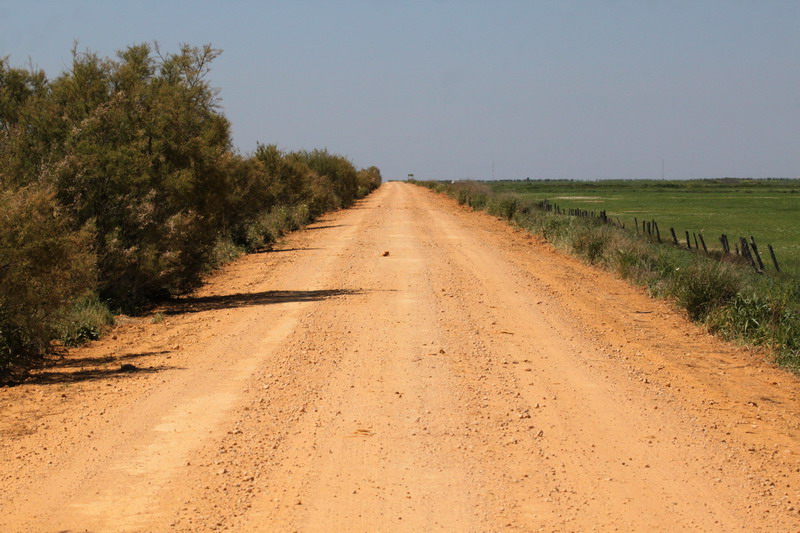 ... guides to the visitors center at National Park of Doñana, namely José Antonio Valverde. During our visit we tried to reach this visitors center by three different journeys, but failed after a few kilometers due to the bad road condition. We are used to drive bumpy roads, but what the wintery rainfalls did, was too much for our car.

What a pity, because at José Antonio Valverde a huge colony of glossy ibis is breeding, what we unfortunately could not see.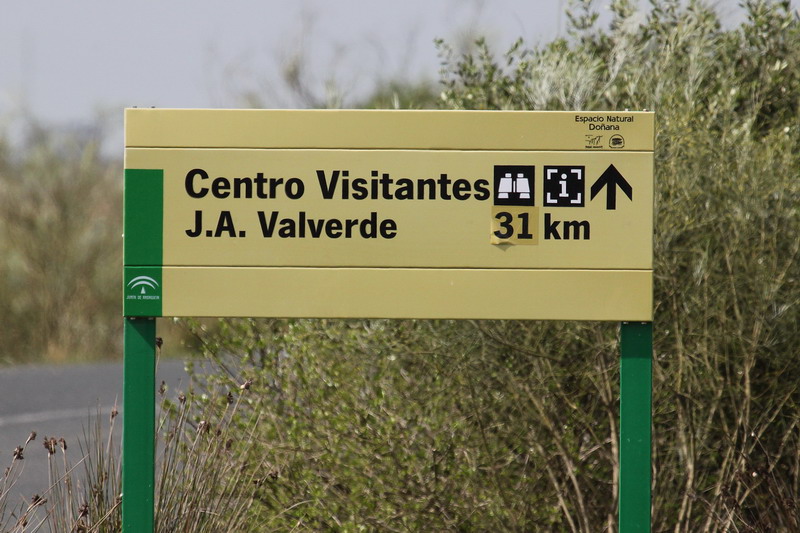 And so we drove that far on the dusty roads ....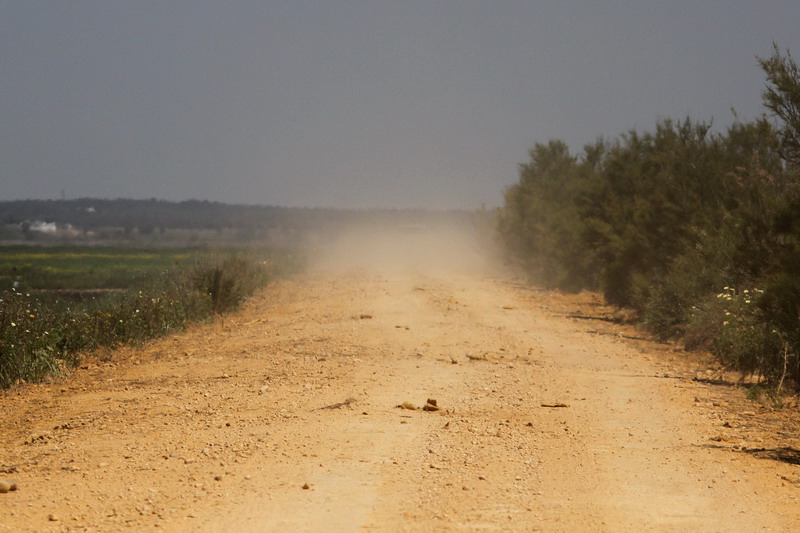 ... as the condition of our car allowed. The side windows were not as dirty and so we could ...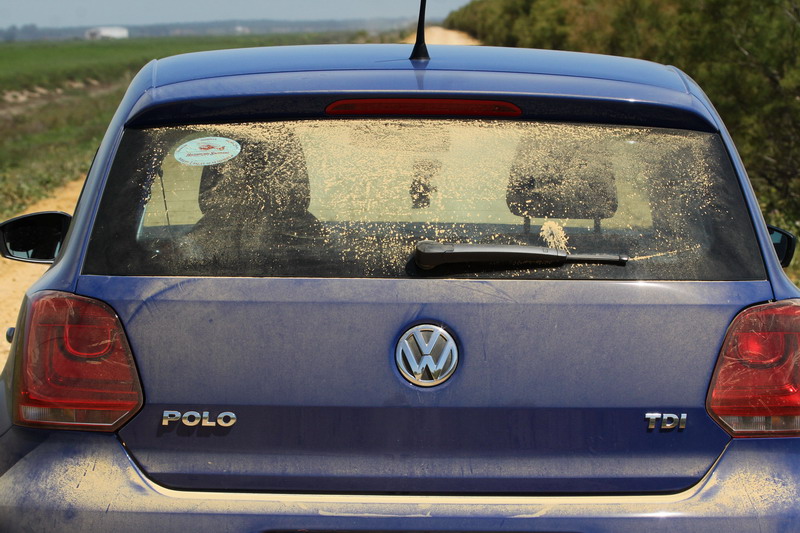 ... enjoy the tremendous beauty of this unpeopled landscape - at the so called Entremuros area - and the biodiversity of the birds world: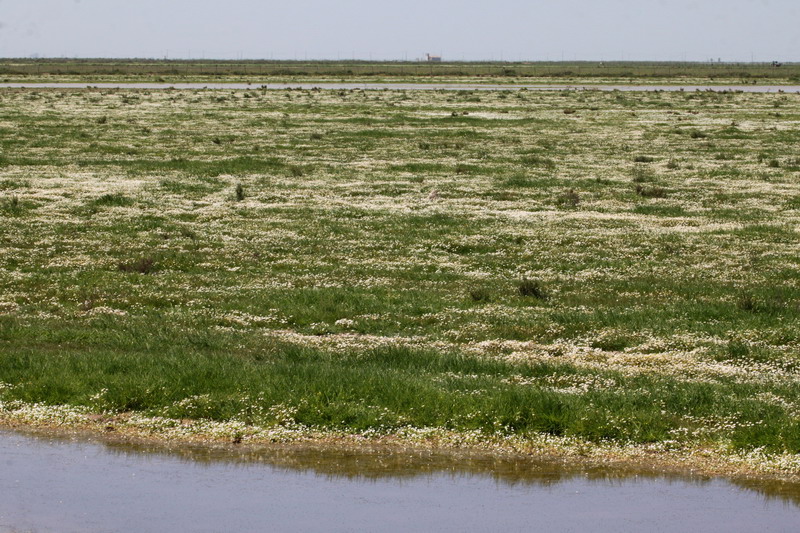 It is such a good feeling, when out of the nowhere suddenly groups of white spoonbills appear or ...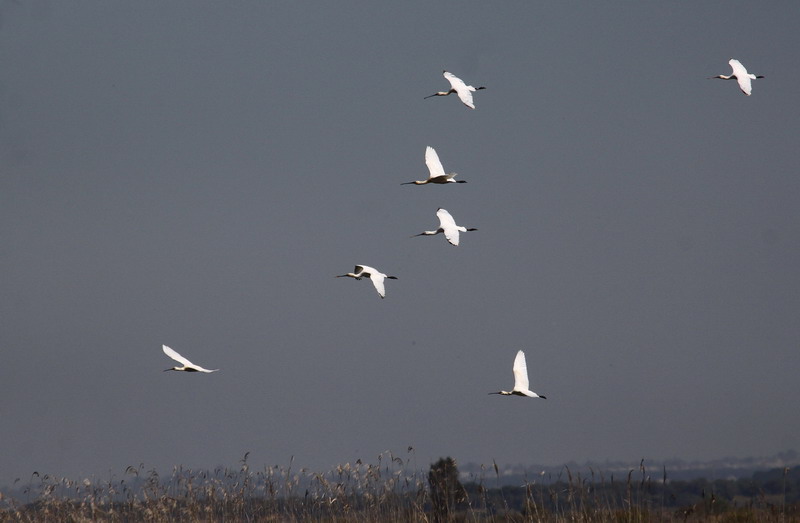 ... a flamingo troop calls attention to themselves and flying circles led by the leading bird to head for another lagoon: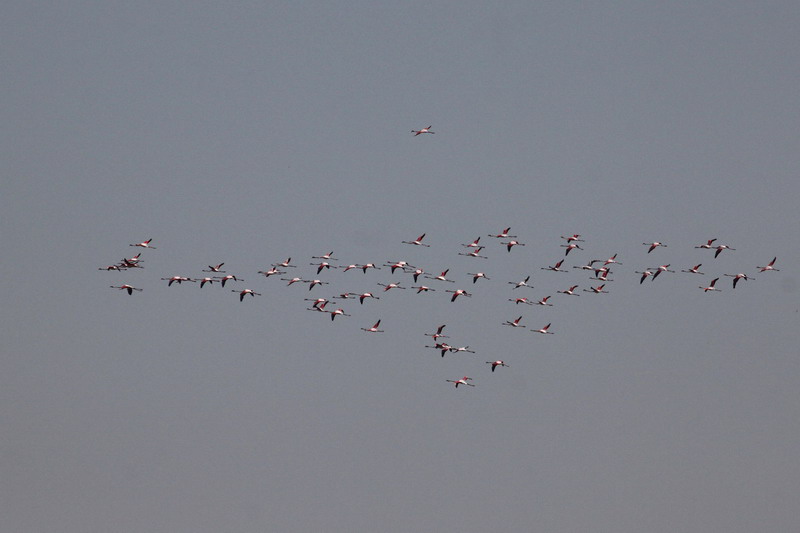 On the sign it is explained, that the grandfathers never colonized these areas, because the mosquitoes had things firmly under control and people were frightened of malaria. But one day some settlers grew rice. With really pharaonic like work they canalized the Guadiamar, that its flooding would not destroy the growing area. Nowadays one is trying with technical support to reinstall the original natural condition, with acceptable success, supported by the nature to reinstall the original flooding areas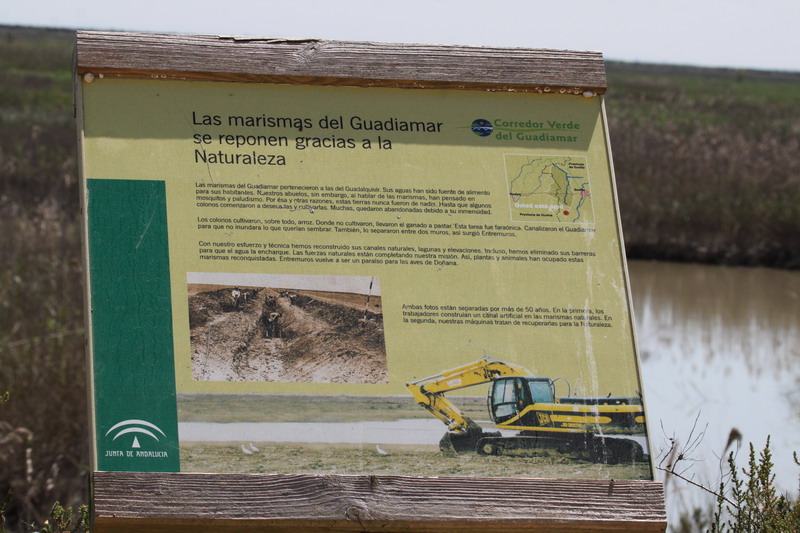 A purple heron is taking off and ...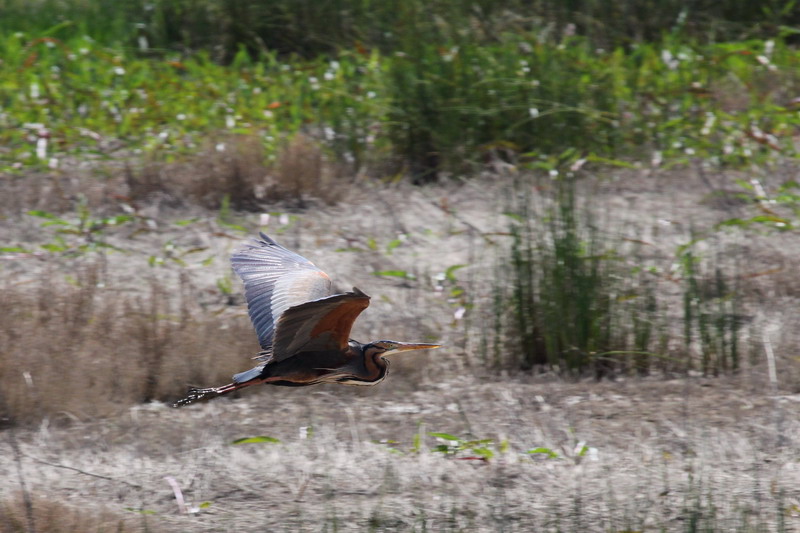 ... landing directly at our level. For quite a while we were able - unfortunately with contre-jour - to admire its beautiful colors, its snakelike neck and its elegant shy beauty: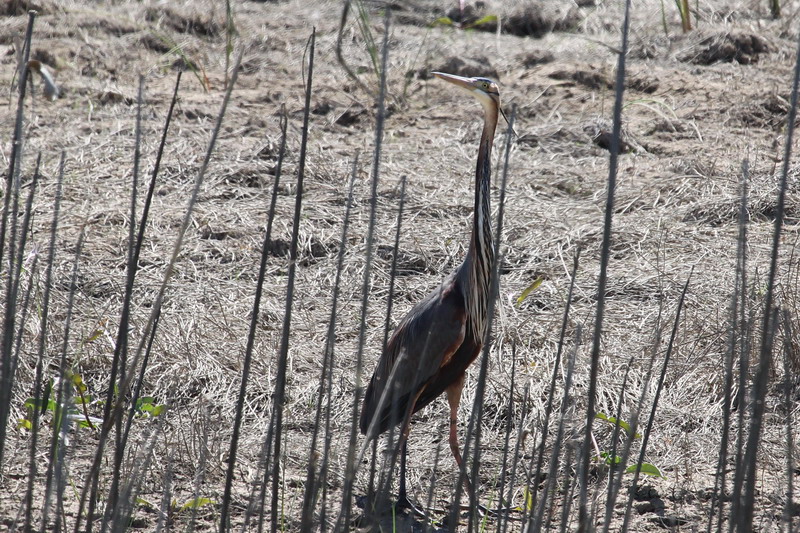 Well, and this hoopoe gave us the runaround.

Again and again he took off and landed with wonderful bristled head in a bush in order to start immediately again. And the only photo which I could take from this beautiful guy is this one: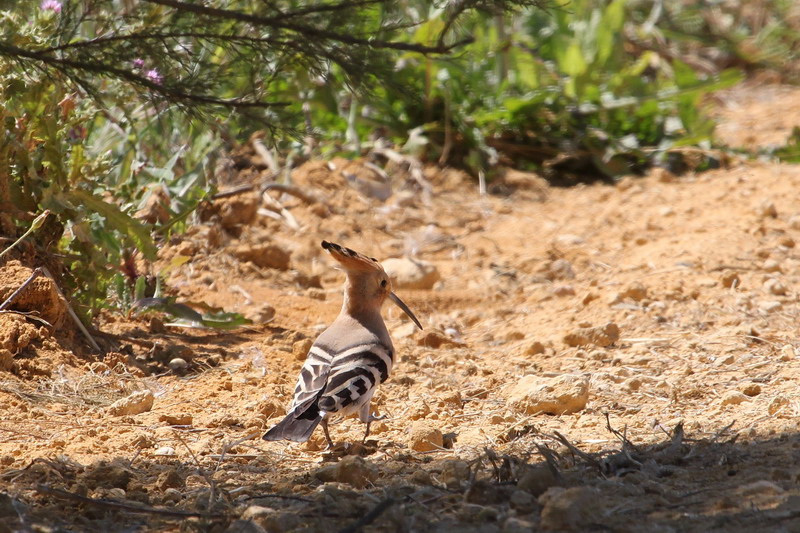 "Well, don't complain! WE all sit here very brave!":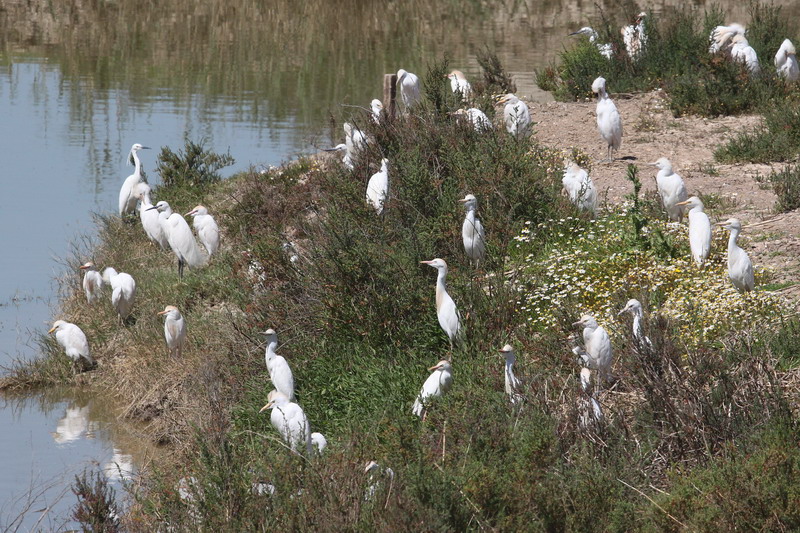 Everywhere in the bushes redstarts were flying around and this one very attentively looked around: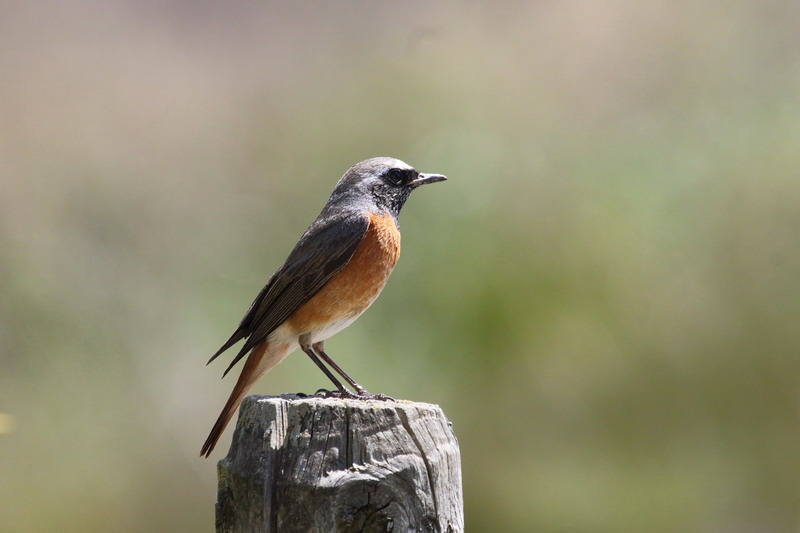 The male corn buntings sang in the meantime their territorial songs and ...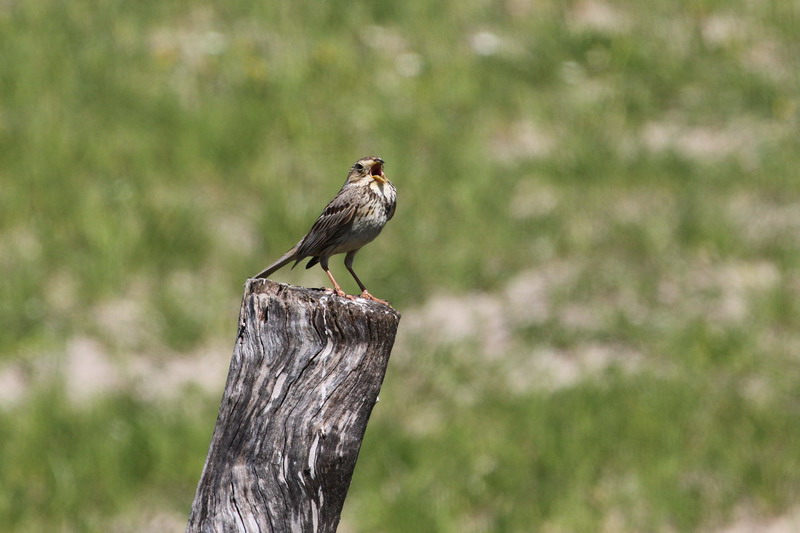 ... intensely watched their nesting area: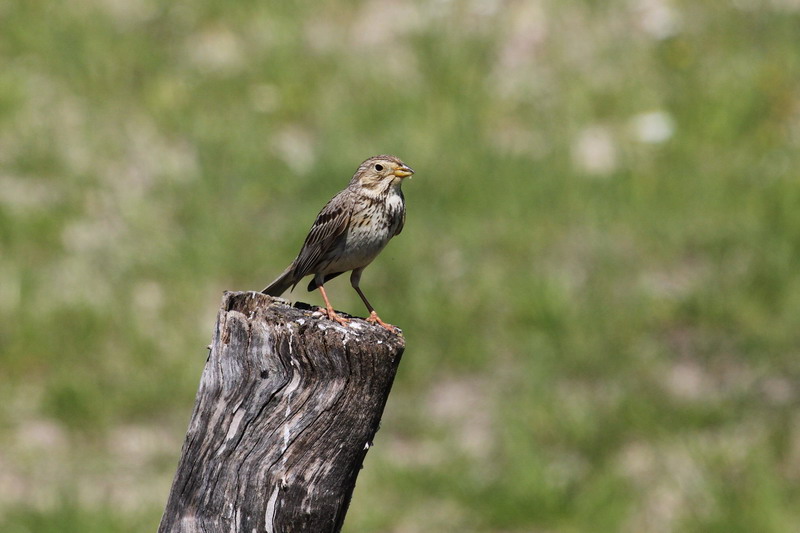 The same did also many many other small birds, because, watch it, who was there on its way? A cuckoo! And this one we could watch very well, as he in quick low flights flew into the bushes, most likely to check which small birds he could "entrust" its egg.

Terrific to be able to watch that!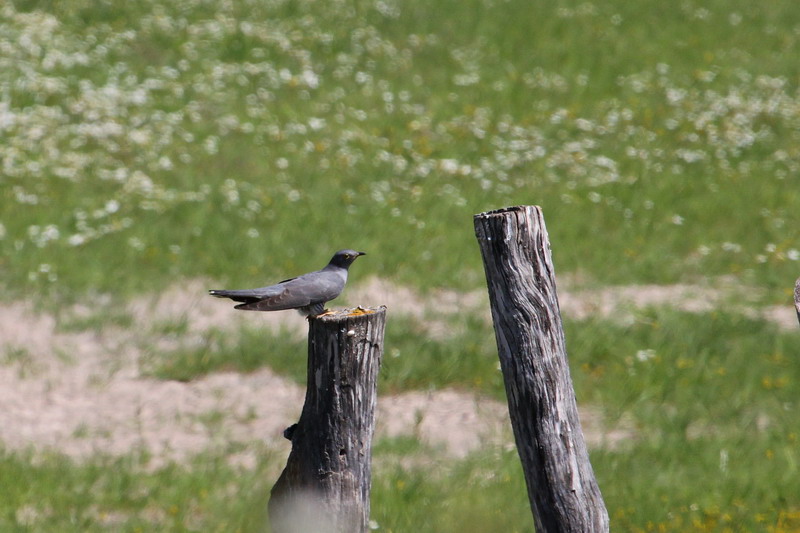 Suddenly above us a booted eagle, who must have been sitting hidden, but took off as he realized us: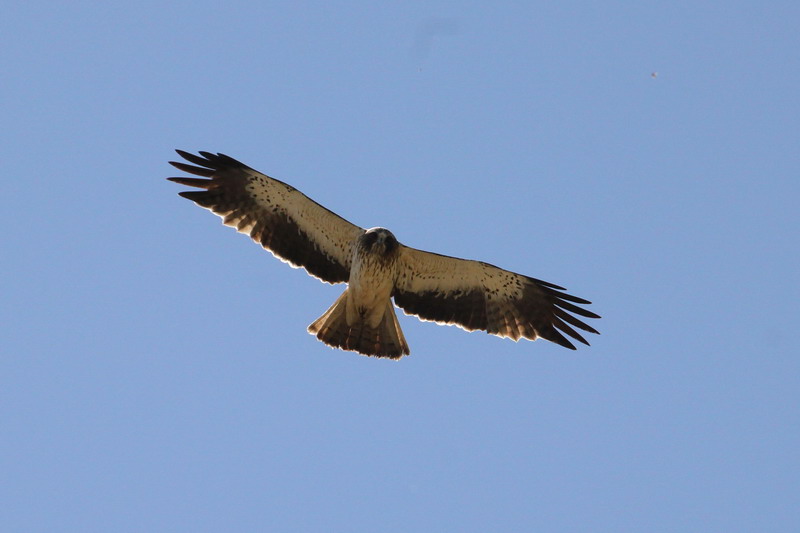 What these many birds owe to their allies the mosquitoes! Without their help these areas would not exist. That's why the mosquitoes got a monument at the Dehesa de Abajo.

But for that more in the soon following report about this unique Dehesa de Abajo.
Birgit Kremer
All photos
©
copyright by Birgit Kremer
webmaster Sabine Börsch
Impressum